We are a proud lifetime member of the crown council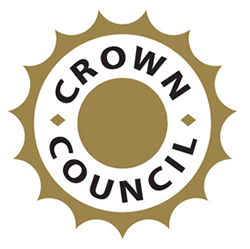 "Where dentistry's best practices unite, and give."
The origin of the Crown Council dates back nearly two decades with practices that all participated in case acceptance and patient communication training originated by the late Walter Hailey and Steven J. Anderson. Today, Steve and the Total Patient Service Institute team carry on that rich tradition as one of dentistry's best resources for helping patients say "Yes" to treatment.
---
In 1996 a group of forward-looking dentists, along with Walter Hailey and brothers, Steven & Greg Anderson, founded the Crown Council to provide a place where those who were committed to improvement could come together to share ideas and to create a culture of success personally, professionally, and in their respective communities.  With that vision, they set out to make the Crown Council dentistry's most dynamic organization to forward the progress in the profession and elevate the standards in every area of practice.  Approaching its second decade, the Crown Council is certainly on its way to fulfilling the mission that was the vision of its founders.
Premier Dental & Oral Health Group joined Crown Council in 1997 and was selected as Practice of the Month in March 2010.  Membership to this alliance of dedicated, leading-edge dental teams committed to promoting oral health and serving their communities is by invitation only.  By sharing their professional and personal best with each other, members are continually setting a whole new standard of excellence in dentistry.  They are committed to building profitable practices that provide a continually rising standard of care.  The organization is recognized throughout the profession as a leader in health, wellness and prevention.
Today, the Crown Council is an international network of over one thousand practices committed to creating a culture of success through continual improvement of the person, the practice, and the community.  This is achieved in the following ways:
Training and Re-training
As Crown Council members, Premier Dental's team has unlimited access to its continually expanding resource of webinars, network forums, mentor interviews, team meeting training videos and exercises, skill-building video sessions, seminars, CE courses, and other educational aids to keep them motivated to deliver the most exceptional service and experience in the dental market.
Uniting
The Crown Council is the place where great minds in dentistry come together to share the best of what they are doing in the clinical, management and marketing areas of practice.
Giving
"No man helps another without helping himself." ~Ralph Waldo Emerson
Crown Council practices lead the industry in making the community, the country, and the world a better place by giving back in many creative and meaningful ways through the Smiles for Life Foundation and their humanitarian trips to the Dominican Republic.